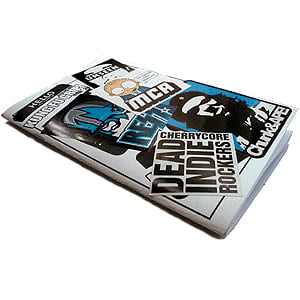 $

4.00
Kung Fu Grip! No. 3B: Stick & Move – Special Edition -- no two covers are exactly the same!
Fifty-six pages of exquisite randomness, including an 18-page pictorial on the art of "slap tagging," a sexy eulogy to Anna Nicole Smith, a one-page love story, and a piece on zine editor St. Paco's friendship with activist and author Upski Wimsatt (Bomb The Suburbs). KFG!3 also contains a graffiti gallery, vintage ads, news, toy reviews, and more.
5.5" x 8.5 black & white zine format, 56 pages.