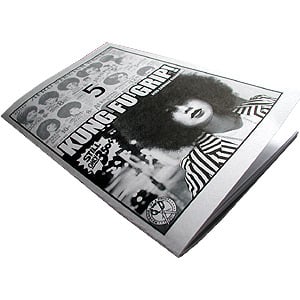 $

3.50
Kung Fu Grip! No. 5: Afro Samurai Champloo.
Giant robots, afros, samurai, Japanese Buddhism, Lee 'Scratch' Perry, Papua New Guinea, H.R. Giger, Salvador Dali, Shiro graffiti, sticker art, toys, vintage ads, the President, The First Lady and Samuel L. Jackson! Yeah, the fifth throat-grabbing issue of Kung Fu Grip! contains all that and more!
5.5" x 8.5 black & white zine format, 56 pages.